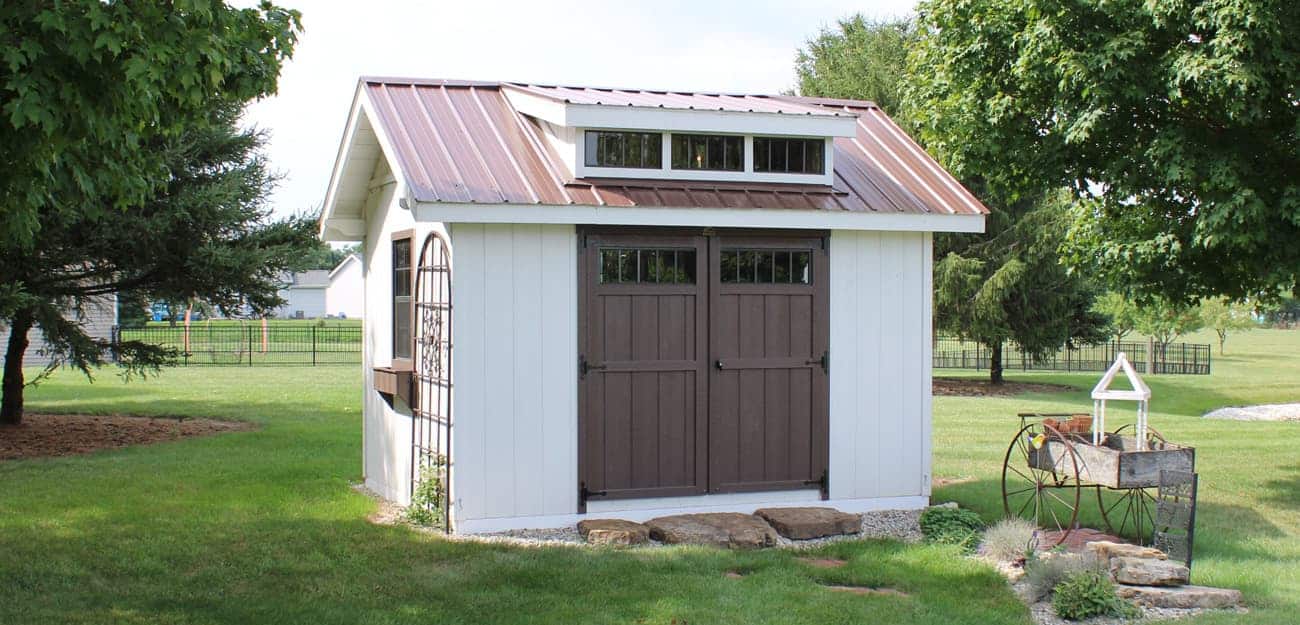 Rent-to-own is a budget-friendly option for those who don't want to put a large sum of money down or who don't want a credit check. It is also a great alternative to paying for an overpriced storage unit.
Sunrise Rentals, will set you up with the perfect rent-to-own portable building that you can pay off anywhere between 24 and 60 months. All that is required upfront is the first and last month's rent payment. You are then ready to receive delivery of any portable building, cabin, or shed that costs less than $15,000.
Best for: People who do not have an ideal credit score, cash-on-hand, or those who do not want to pay a large down payment.
Need to Make a Rental Payment?
Use our convenient online payment method to make your payment and receive a receipt. Thank you for shopping with Sunrise Structures!
Make a Rental Payment
Pick the Building That Meets Your Needs
First things first, pick the rent-to-own shed, cabin, or portable building from our large selection of sheds (and more) here at Sunrise Structures. The final cost of your desired purchase must be less than $15,000 for our rent-to-own program.
If you need financing for more than $15,000, please talk to your Sunrise Sales Rep, and he can guide you through the Hearth Financing option.
View Our Buildings
Complete Rental Agreement & Pay First & Last
Once you know what building you want, you must complete your rental agreement and select your desired payment period between 24 & 60 months. Then, pay your first and last month's rent. No credit check is required and you will be approved for financing regardless of your credit score.
Once you've completed these basic steps, set a delivery date, and we'll plan on transporting your structure anywhere within our delivery area.
You will receive a statement in the mail approximately 1 month after the delivery of your structure. Your payment due date will be on the statement.
View Our Locations
Accept Delivery of Your Building & Start Paying Rent
Before we show up with your building, make sure that you have properly prepped the site for delivery. Once we drop off your building, you can start using it right away.
Utilize your building any way you want, and start paying your rental fees each month until your building is paid off. If you decide to return your rent-to-own building at any point, contact us, and we'll come and pick it up.
To make a payment online, use the "Make a Payment" button above.
We also recommend auto-pay. These payments come directly out of your account, removing the hassle of calling to make a payment each month. To set up auto-pay, make a one-time call to Sunrise Rentals (574) 900-7433, and a representative will assist you in establishing hassle-free monthly payments.
For additional questions, connect with Sunrise Rentals at (574) 900-7433.
Is Rent-To-Own the same as financing?
No, rent-to-own is an alternative to traditional financing. The main difference between financing and rent-to-own is this: financing is a loan with credit implications; rent-to-own is a lease agreement.
Unlike a loan, a rent-to-own contract does NOT have a financing or interest rate. However, a rent-to-own agreement has a leasing fee added to the building cost.
With traditional financing, you are required to file a credit application. After reviewing your application, the lender will either grant or deny the loan. If you default on a loan or return the property early (in this case, your shed) without fulfilling the full term of the loan, your credit score will (almost always) be affected negatively.
A rent-to-own contract does not require a credit application. If you choose not to complete the full rent-to-own payment period for your shed, you can return the building at no cost (assuming you are up-to-date on all payments.) Otherwise, once you fulfill all your monthly payments the shed is yours!
Are Rent-To-Own Sheds more expensive than renting storage space?
As a long-term solution, rent-to-own is always cheaper than renting a storage space.
At the end of the rental term, you own the building and can continue to use it. A well-built building will give you 20-30 years (or more) of storage space for the cost of 3 years of rent.
A rent-to-own shed always costs more than buying the same shed with a one-time payment. However, the overall cost is usually the same as or less than renting a self-storage unit for the same time period. A well-built shed can also be sold to recoup some of your investment.
Are Rent-To-Own Sheds an investment or is self-storage a better option?
If you often use storage space, then a rent-to-own shed is better equipped to satisfy your needs.
Also, consider rent-to-own if your items will require long-term storage. It is helpful to think about your rent-to-own shed as a long-term investment. This inescapable fact remains—you will owe a monthly payment for either self-storage or a rent-to-own shed.
But a key distinction between the two is worth considering. At the end of years of monthly payments, one option allows you to walk away with a storage shed, and the other leaves you with nothing. Plus, with rent-to-own, not only will you own your shed, but you will also increase your property value.
Can Rent-To-Own Sheds be paid off early?
Yes! A rent-to-own building can be paid off early with substantial savings. You are not limited to the monthly payments of your chosen rent-to-own term.
In most cases, you can pay the remainder of the price of your shed as soon as you want. At any point during your rent-to-own payment agreement, you may finish paying the total price of your shed and become the exclusive owner immediately after that final transaction.
Keep in mind that since part of each monthly rent-to-own payment goes toward leasing services, only a percentage of past payments will count toward the overall purchase price of the building. That percentage will usually be stated in the rent-to-own shed contract/agreement.
Does a Rent-To-Own Shed affect my credit score?
No, a rent-to-own shed does not affect your credit score.
Rent-to-own agreements do not require a credit check because they are not loans. If you decide to end the rent-to-own agreement early and return the building, there will be no negative effects to your credit score.
Where to Buy
Are you ready to invest in your ideal shed? Find our nearest location and stop by today!
From start to finish, our representatives will help you decide on shed designs, sizes, colors, and customizable features.
View Locations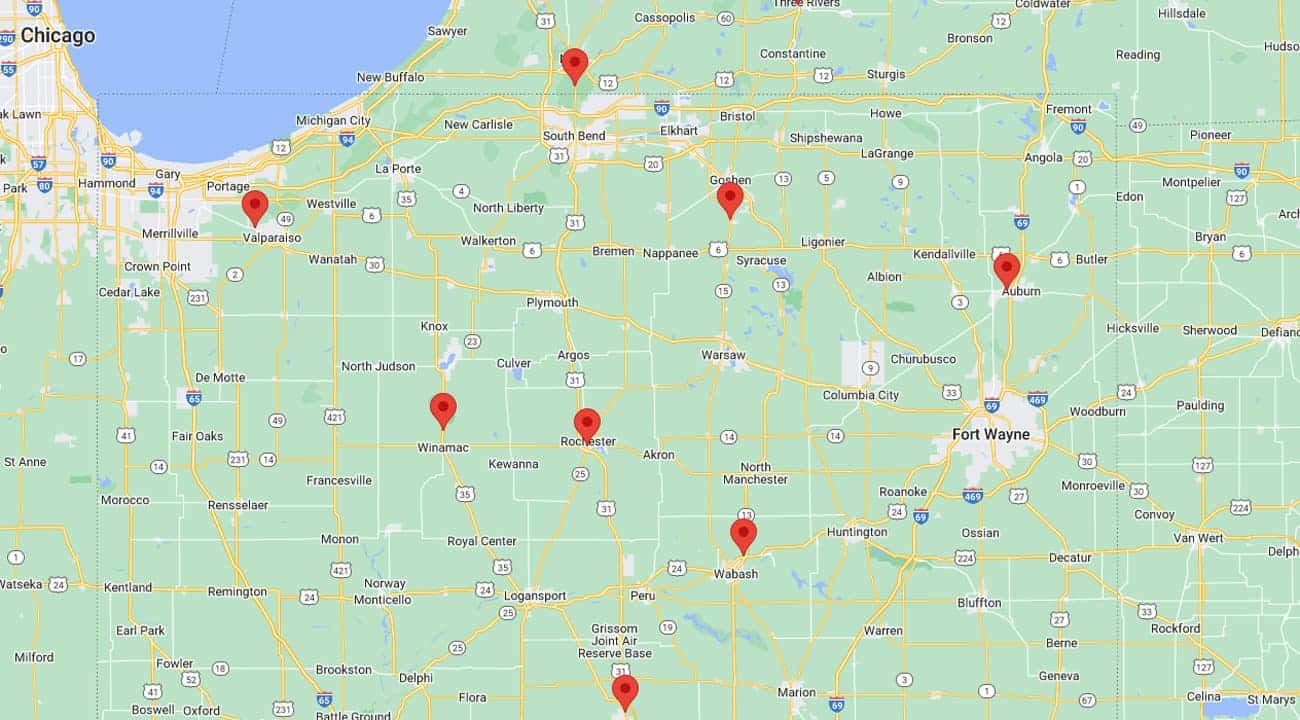 Earl Terry
Love the new lofted barn. Great quality, and Josh was very detailed in placement of the barn. He took great pride in their product. I will be recommending Sunrise to all my family and friends.
Stan Pletcher
Sunrise Structures does amazing work at their site in Rochester and on your site when they install!! I highly recommend their buildings. They are quality throughout.
Melinda Roose
We are very pleased with our new mini-barn from Sunrise Structures. It matches our new house colors and is just the right size. The people who work for them are extremely helpful and courteous. You need to check them out before you buy from anyone else.
Nancy Ware
Sunrise Structures is a great shed. I am satisfied with the quality and customer service. I highly recommend this shed.