Why buy a shed from Sunrise Structures?
Peace of Mind. You can rest assured that when you enhance your home with a Sunrise Structure, we will take care of you from A – Z. Designing your shed, Financing, Delivering your shed, with a 10-year warranty. Enjoy!
What sets you apart from the competition?
Sunrise only uses top-grade lumber and plywood—no OSB or particle board. Our sheds are engineer stamped and certified in Indiana and Michigan. Built by hand, we set the bar higher for our storage sheds.
Is there more than one way to order a shed?
Yes!
Locate one of our sales lots and let one of our helpful sales reps guide you through the process of designing and ordering your shed for you. (See all locations).
Use our 3-D shed builder to customize your shed, then submit your order online.
Is my lawn and landscaping harmed during the installation of a shed?
Our pre-built sheds help keep the delivery process damage-free!
We unload your shed as close to the foundation as possible, and use our "Mule" machine to wheel it to your prepared site. See (Our Process). The "Mule" is hydrostat driven and has turf tires like a lawn mower, meaning your lawn isn't torn up or damaged during the installation process.
Does Sunrise Structures use sub-contract labor to construct the shed?
We do not use sub-contractors to build or install our sheds. To provide the highest quality experience possible, we employ 100% of the staff who create and deliver your storage sheds.
What is your most popular siding?
Our most popular siding is called DuraTemp®, a maintenance-free option for your storage shed. DuraTemp® is a real wood 5-ply siding with a 50-year warranty—backed by the Sherwin-Williams acrylic paint with a 15-year warranty.
What is DuraTemp® Siding?
DuraTemp® siding is made from a 1/8" Douglas Fir composite topped with impermeable veneer. For those who appreciate Victorian architecture, this siding is made in a 8" vertical board & batten style. All our DuraTemp® sided sheds are delivered to your home—painted to the color of your choice.
Does a Sunrise Structure require maintenance?
Your Sunrise Structures Shed will provide years of service. However, like any outdoor structure, a certain amount of maintenance is required to preserve its original quality plus keep its warranty in effect. Your shed should be repainted about every 5 to 8 years.
How many paint colors do you offer?
Sunrise Structures offers 14 different standard Sherwin-Williams paint colors. However, we do offer color matching. If you'd like your shed to match your house or a different paint color from Sherwin-Williams, just give us the SW code from your local Sherwin Williams Store. We'll take it from there, and paint your shed the color you choose!
How many roof colors do you offer?
We offer 14 different metal roofing colors:
Black, Burnished Slate, Charcoal, Gray, Galvalume, Brilliant White, Hunter Green, Gallery Blue, Burgundy, Rustic Red, Copper Penny, Taupe, Brown, Light stone
We also offer a 30-year architectural shingle in 3 colors:
Black, Hickory, Weatherwood
How long are buildings covered by a warranty?
We offer 10 years of coverage for our sheds. Our metal roofing carries a Lifetime Limited Warranty, and our architectural shingles are warranted at 30 years. To discuss any problems with your Sunrise Structure, call us at 574-900-7433, and our Service Department will help you figure out a solution.
Do you install sheds year-round?
Yes! If there is not too much snow or ice, then our delivery driver is very capable of wheeling your new shed to the desired spot.
Is a limestone foundation required for a shed?
Technically, no. However, we do highly recommend you getting a professional limestone foundation installed by the Sunrise site prep crew. A solid foundation is crucial for the longevity and lifetime of your shed. Listed are some of the benefits:
Drains moisture properly
Will stay level and solid
Does not settle like blocks on dirt
Discourages rodents from burrowing
Looks neater and more attractive
Protects your investment.
What are the standard door and window sizes on a shed?
Transom window: 10″ x 29″
Small Window: 24″ x 27″
Standard Window: 24″ x 36″
Large Window: 36″ x 46″
Door Height: 70″
Single Door Width: 36″
Double Door Width: 60″
What is your service & delivery area?
We provide our services to all of northern Indiana and lower Michigan. Delivery cost is figured in with the price of the shed. Therefore, we offer "free delivery," until your location exceeds 100 miles from our manufacturing facility. After 100 miles, delivery cost is $6.50 per mile.
Do you offer different payment options?
Absolutely. Aside from cash, Sunrise Structures also accepts checks, Master Card, Visa, Discover, and AMEX. Please note that a 20% down payment is due at the time of purchase and the remaining balance is due on the delivery date.
If you prefer to make smaller payments over time, rent-to-own is also a popular alternative. We offer the rent-to-own option in 24-month, 36-month, 48-month, and 60-month payments.
For traditional financing, we accept Hearth Financing (with approved credit). Talk to one of our representatives about the application process, or click here to apply online.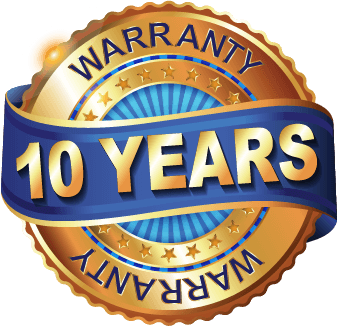 We are certain our products will provide you years of satisfaction and service; and we back that claim with a "Total Trust 10-year Warranty".
At Sunrise Structures our two main goals are providing a higher level of service and a better-quality product. If in any way you feel we've come short of our goals, let us know and we will do whatever is necessary to meet and exceed your original expectation.
View Our Warranty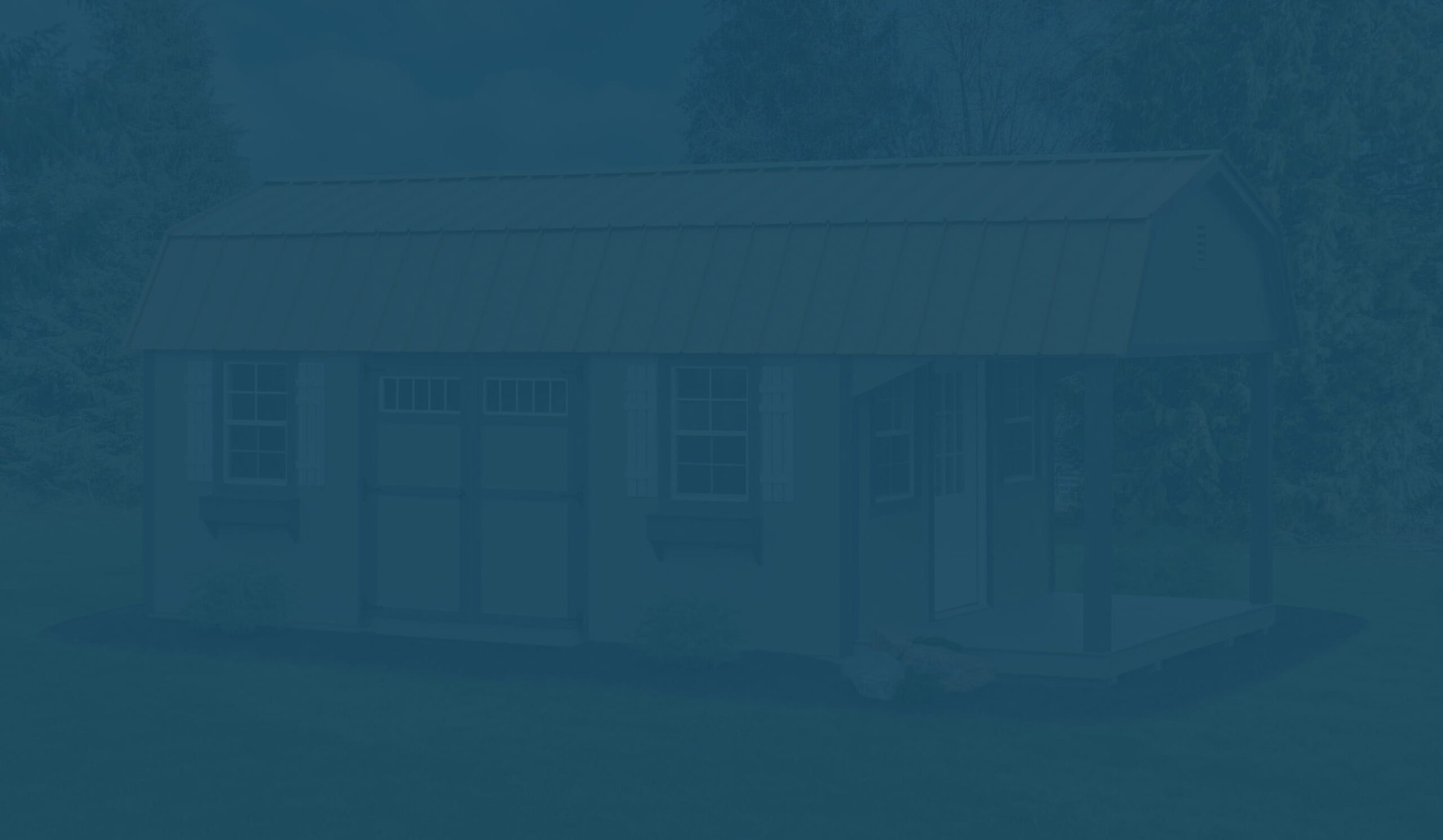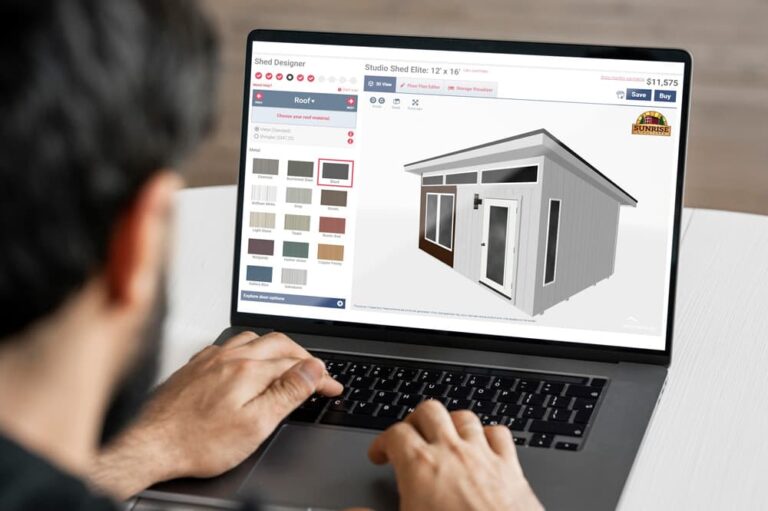 Use our 3D Shed Builder!
Comprehensive yet easy-to-use, our 3-D shed builder takes customization to the next level. Design the layout of your building with ease and personalize to your heart's content.
3D Builder
Melinda Roose
We are very pleased with our new mini-barn from Sunrise Structures. It matches our new house colors and is just the right size. The people who work for them are extremely helpful and courteous. You need to check them out before you buy from anyone else.
Earl Terry
Love the new lofted barn. Great quality, and Josh was very detailed in placement of the barn. He took great pride in their product. I will be recommending Sunrise to all my family and friends.
Nancy Ware
Sunrise Structures is a great shed. I am satisfied with the quality and customer service. I highly recommend this shed.
Stan Pletcher
Sunrise Structures does amazing work at their site in Rochester and on your site when they install!! I highly recommend their buildings. They are quality throughout.