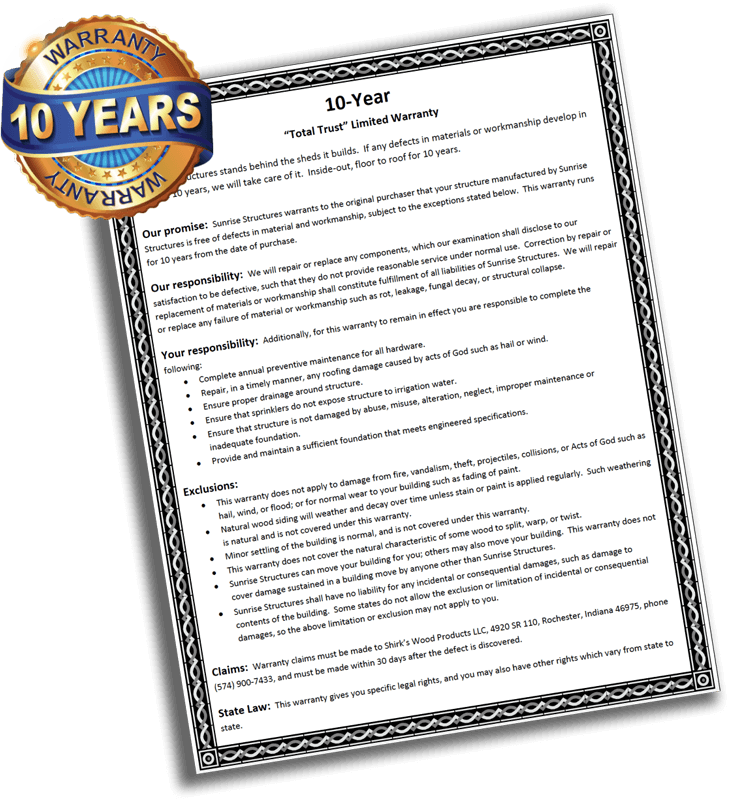 Our 10-Year Warranty
All of our buildings come with a standard 5-year warranty. Plus, we offer you our "Total Trust 10-year Warranty" with the purchase of your building when you include a certified site prep to be completed prior to receiving your building. (see site prep).
This warranty provides you peace of mind, promising that you will be completely covered for 10 years. When you go with our certified site prep, this "Total Trust 10-year Warranty" is included with the purchase of your building at no additional cost to you! If you choose not to have a site prep done, you may still purchase the "Total Trust 10-year Warranty" with the same coverage at $479.00.
When purchasing a building with windows, we offer a Lifetime warranty replacement on all glass. We will replace any window that gets cracked or broken with no questions asked for the lifetime of the ownership (non – transferable) of your building. This Lifetime glass warranty is available for purchase at the time of ordering your building for an upfront one time initial cost of $279.00.
We offer you these warranties with confidence because we carefully select each and every product and only use the highest quality materials in every building we produce for our customers.
When your building says "Sunrise" on it, rest assured you have made an excellent choice, and we will stand behind it!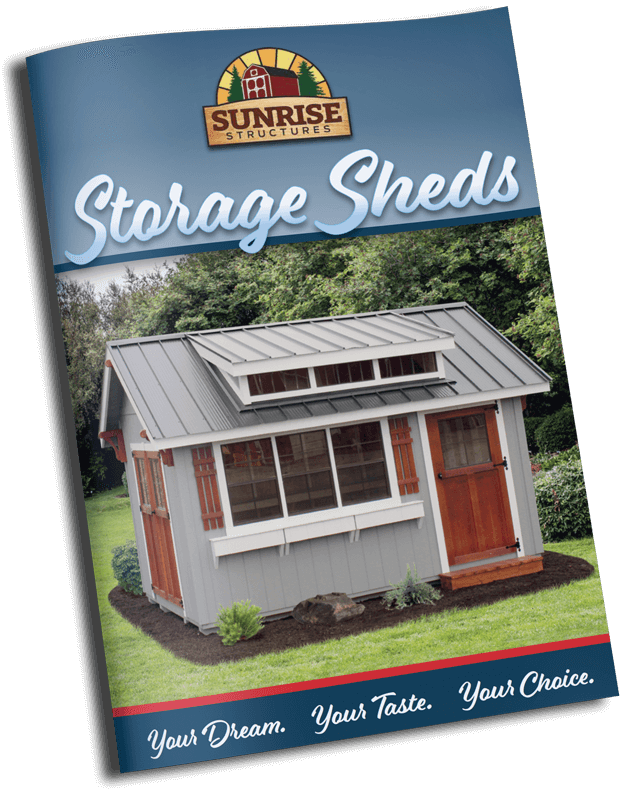 Our Product Catalog
Shopping for your ideal shed? Our catalogue provides an abundance of product information that allows you to educate yourself on building materials, warranties and customizable options.
We've categorized the good, better, and best models of our buildings in order to help you find the right fit for your budget and storage needs.
Each model we offer is displayed with a list of standard features as well as options shown in the pictures provided.
Our options pages provide you with a close up of every piece plus a clear description of the item.
Choosing colors is a breeze with accurate pictures of colors choices for siding, trim, and metal roofing.
Take time to flip through all our options, and find the storage shed that suits you. Choose a Sunrise Structure to satisfy your storage needs—and add value your home!
Use Our 3D Builder
You don't have to settle for something pre-built. Use our 3-D Builder to incorporate all your favorite styles into one structure!
Choose from countless features and get a picture of what your dream building will look like in real life.
Use our 3D Builder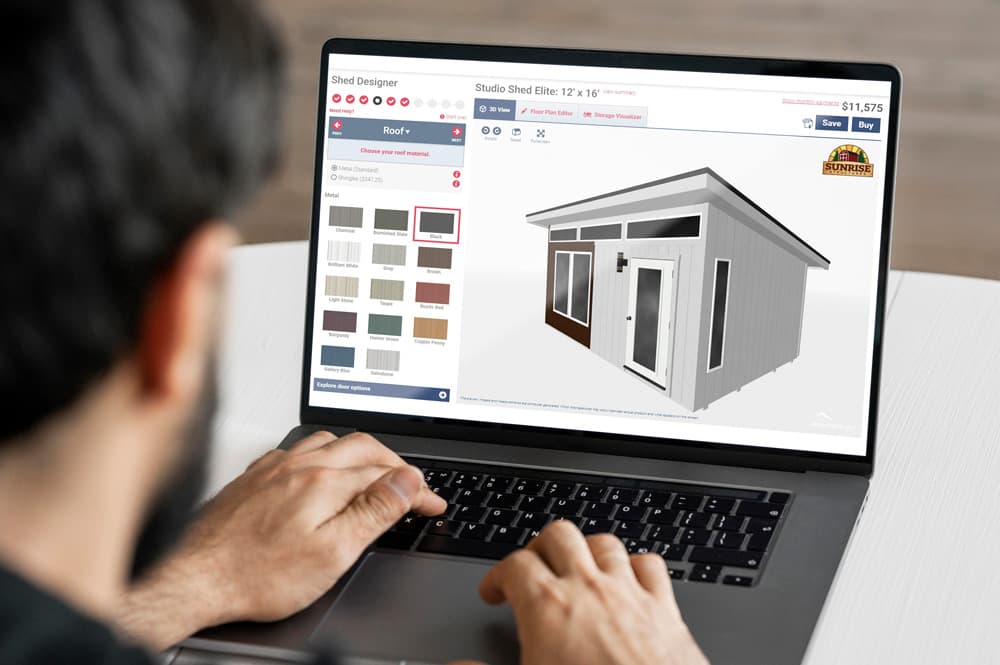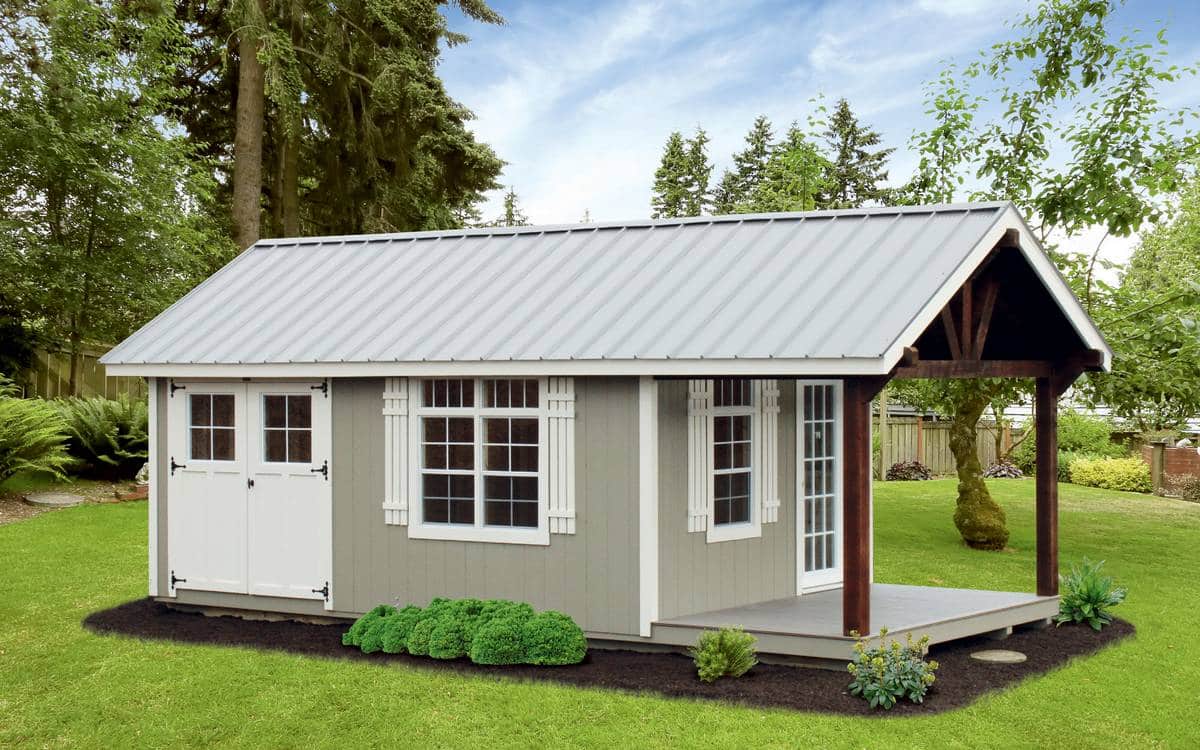 Nancy Ware
Sunrise Structures is a great shed. I am satisfied with the quality and customer service. I highly recommend this shed.
Earl Terry
Love the new lofted barn. Great quality, and Josh was very detailed in placement of the barn. He took great pride in their product. I will be recommending Sunrise to all my family and friends.
Stan Pletcher
Sunrise Structures does amazing work at their site in Rochester and on your site when they install!! I highly recommend their buildings. They are quality throughout.
Melinda Roose
We are very pleased with our new mini-barn from Sunrise Structures. It matches our new house colors and is just the right size. The people who work for them are extremely helpful and courteous. You need to check them out before you buy from anyone else.