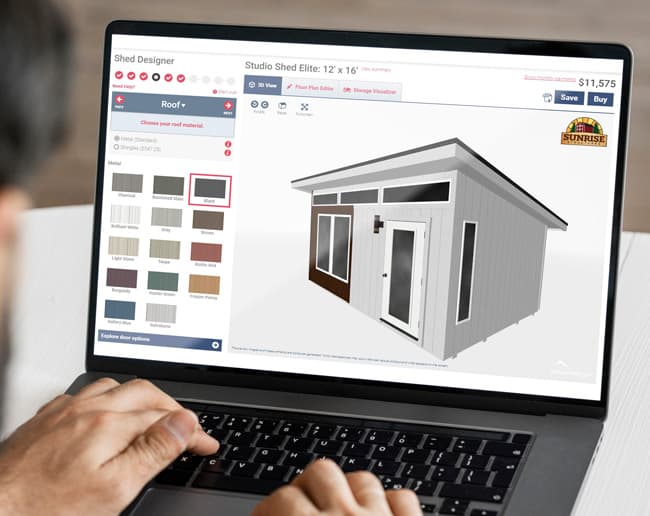 Choose Your Structure
Start by selecting one of our many storage solution options, based on your personal storage needs.
You can choose one of our standard layouts, or use our 3-D builder to customize every detail of your building.
For those who want extra personalization, our 3-D builder allows you to:
-Add and subtract windows and doors
-Change the color of the building and rooftop
-Adjust the size of the building
-See your building from all sides before your order is processed
-And more!
Create the exact look you want and make your building the perfect addition to your home.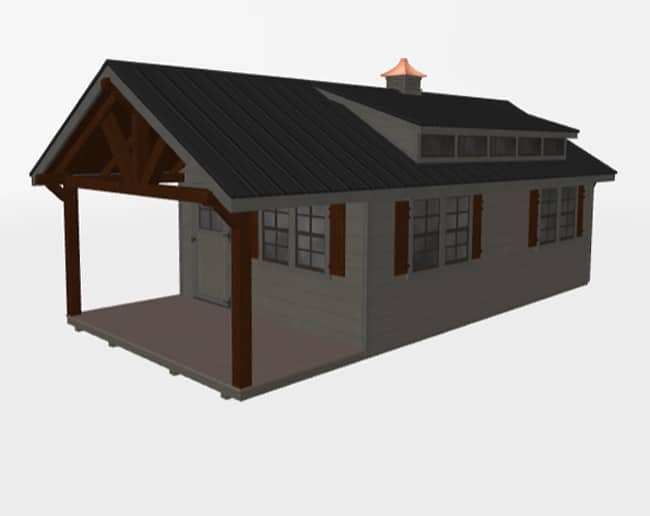 Approve & Finalize Your Order
Once you have selected your building, there are several options to complete your order.
1. You can order right here on the website. One of our sales associates will reach out to you and review your order's accuracy prior to assigning your building for production.
2. You can place your order by calling a sales lot near you and connect with one of our sales associates for final review.
3. You can visit one of our sales lots near you. Just put in your location by
clicking "View Locations" below. Our sales associate onsite will reach out
and schedule a time at your convenience to review your order with you
and assist you in finalizing your purchase.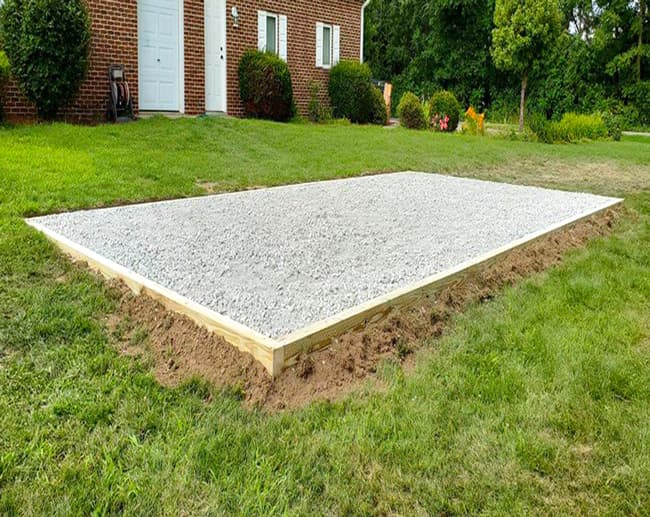 Prepare the Site
Although laying the foundation is not the first step in choosing your structure, it is by far the MOST important! For your house, a solid foundation ensures that your house remains level, the floors do not sag, and your windows and doors open and close properly for the lifetime of your home.
The same is true of your Sunrise Structure. In our site prep, we compact 4" of limestone either above grade or compacted evenly with your yard (after sod removal). This allows for proper drainage of rain, snow, and ice melt, keeping your building level with little to no settling.
Draining moisture away helps the base to ventilate properly, eliminating any rot, mold or mildew that could occur underneath the deck. In turn, all windows, doors, and other mechanical components will remain fully functional and operating correctly.
A well-built foundation keeps your building looking great year after year! We highly recommend you not skip this very important step!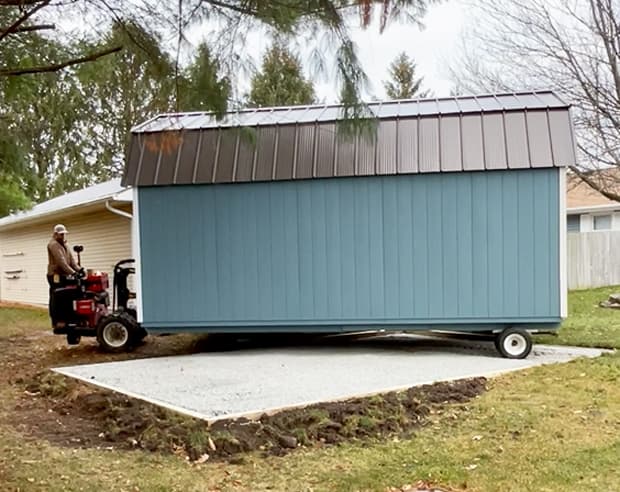 Delivery Day
This is an exciting day! At Sunrise Structures, we have a team of highly qualified people dedicated to providing excellent customer service. We're here to serve you from the start of your ordering process, through production of your building, up to the day of delivery, and throughout the lifetime of your ownership.
Your building will get maneuvered through your yard using "The Mule". This is a machine specifically designed to move buildings into tight spaces. Equipped with hydraulics for heavy lifting and turf tires, The Mule is ideal for gently driving through your lawn with no damage.
Our typical delivery and install is completed in less than an hour. Now its time to enjoy your new Sunrise Structure!
Where to Buy
Are you ready to invest in your ideal shed? Find our nearest location and stop by today!
From start to finish, our representatives will help you decide on shed designs, sizes, colors, and customizable features.
View Locations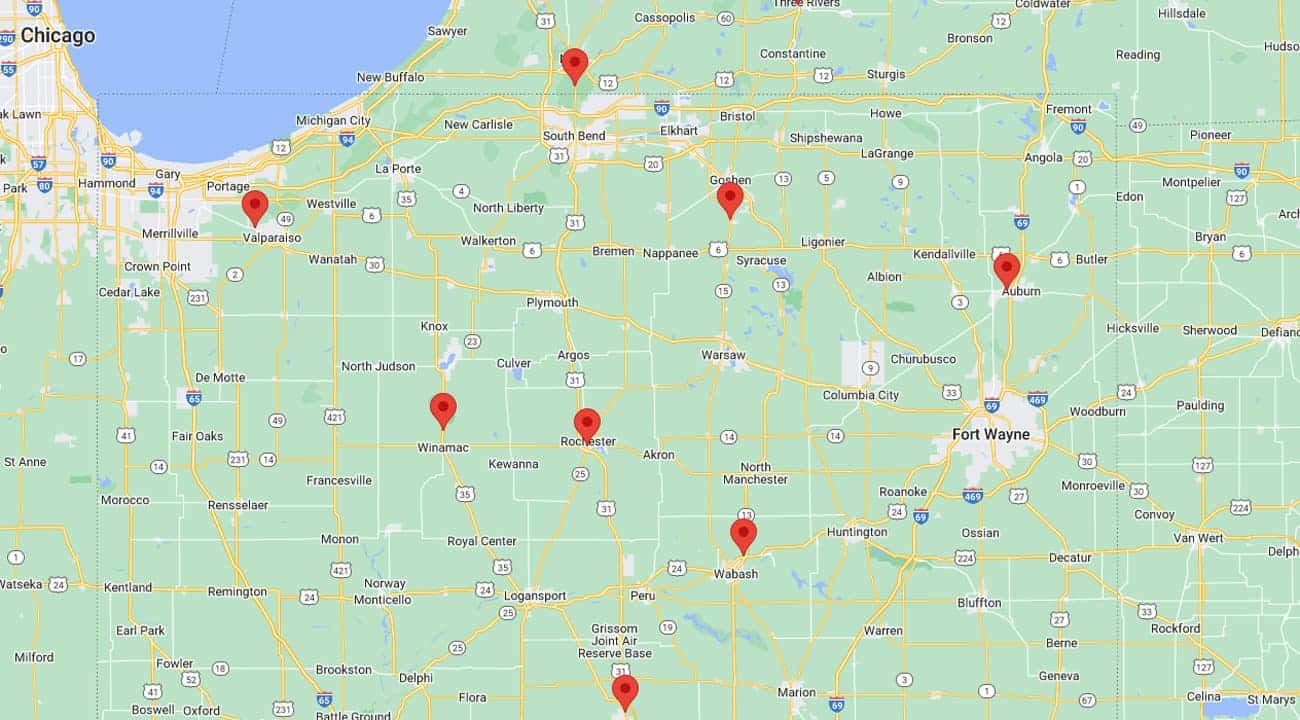 Earl Terry
Love the new lofted barn. Great quality, and Josh was very detailed in placement of the barn. He took great pride in their product. I will be recommending Sunrise to all my family and friends.
Stan Pletcher
Sunrise Structures does amazing work at their site in Rochester and on your site when they install!! I highly recommend their buildings. They are quality throughout.
Nancy Ware
Sunrise Structures is a great shed. I am satisfied with the quality and customer service. I highly recommend this shed.
Melinda Roose
We are very pleased with our new mini-barn from Sunrise Structures. It matches our new house colors and is just the right size. The people who work for them are extremely helpful and courteous. You need to check them out before you buy from anyone else.