Our Offices (Studio/Casita) are offered in two styles, and the sizes of both, can be adjusted per your request.
There are no limits to the functionality of these buildings! Home-based businesses such as hair salons, pet grooming facilities, and design centers can be a perfect fit.
Both buildings provide the option of:
A unique opportunity to add additional space for your hobbies
A consultative selling office for an onsite sales lot or a worksite construction office
A work-from-home office, home gym, or music studio
A peaceful space, free from your normal household noise and interruptions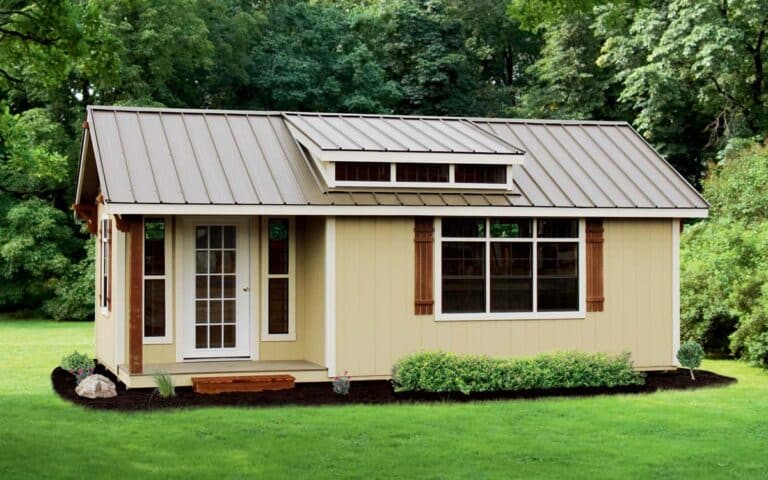 The true home away from home, our Gable Casita is an adorable tiny house in your own backyard. Use your creativity to style the interior and host birthday parties, book studies, and more in the privacy of your personalized Gable Casita.
Details
Melinda Roose
We are very pleased with our new mini-barn from Sunrise Structures. It matches our new house colors and is just the right size. The people who work for them are extremely helpful and courteous. You need to check them out before you buy from anyone else.
Stan Pletcher
Sunrise Structures does amazing work at their site in Rochester and on your site when they install!! I highly recommend their buildings. They are quality throughout.
Earl Terry
Love the new lofted barn. Great quality, and Josh was very detailed in placement of the barn. He took great pride in their product. I will be recommending Sunrise to all my family and friends.
Nancy Ware
Sunrise Structures is a great shed. I am satisfied with the quality and customer service. I highly recommend this shed.